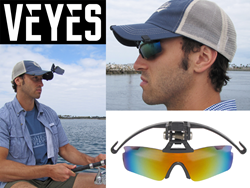 Indianapolis, Indiana (PRWEB) May 21, 2015
Veyes LLC today announces the launch of its innovative line of flip-up sunglasses on the popular crowdfunding website Kickstarter.com.
"Millions of Americans wear sunglasses, or other protective eyewear, together with a hat during sports activities such as golf, baseball, running, target shooting and fishing. The problem is that traditional sunglasses are uncomfortable and inconvenient when worn together with a hat. Veyes takes the age-old concept of flip-up sunglasses and combines it with a hat in a uniquely modern way, offering a solution with unsurpassed comfort and convenience during sports activities", says company founder Mark Repko.
The patent-pending Veyes design eliminates the temple bars associated with traditional sunglasses and attaches the lens directly to the underside of a hat visor. The Veyes frame then allows the wearer to pivot the lens between an operative position in front of the wearer's eyes and an inoperative position in which the lens is held securely above the visor and out of the wearer's field of vision.
Veyes will initially launch with five lens options, including dark gray polarized, yellow tint, blue tint, clear and a multi-colored mirrored lens. All lenses are made of polycarbonate and include UV400 protection.
"We are super excited to launch Veyes on Kickstarter", says Repko. "The Kickstarter community has proven over time its willingness to support entrepreneurs in their endeavor to bring innovative new products to market. We think Kickstarter is the best way for us to find our first customers and raise the funding necessary to complete our project."
For more information about Veyes flip-up sunglasses visit https://www.kickstarter.com/projects/markrepko/veyes-flip-up-sunglasses.